---
"Ask God For Help"
Living an Abundant Life


Jesus said, "I came that they might have life and that they might have it more abundantly" (John 10:10).

What does this mean for you and for me?

If we look at the first part of the verse, it says, "The thief does not come except to steal, and to kill, and to destroy." Jesus was contrasting what He offers with what the world offers. He was warning his followers to be alert to the ways of the world and be aware of the eternal treasure He offers.

---

---

Some may think that God is stingy with His blessings. But nothing could be further from the truth. God wants you and me to be blessed more than we want it ourselves.

The thief comes for selfish reasons. Jesus came to give. He came that we may have life in Him that is meaningful, purposeful, joyful and eternal. He is concerned with what is in our hearts. He wants our hearts to be filled with love, joy, and peace.

What gives you love, joy, and peace? Is it more toys or more cars or more things? External things usually fall short in the long term. Seek peace from within. It is everlasting. It is the Kingdom of Heaven.



---
"You do not have, because you do not ask God."
James 4:2

Ask God for help... We all could use a little help. God wants to help each of us. He wants us to come to Him, to seek Him and put our dependence on Him. Asking God shows dependence on God.
He is always available and is always ready to hear our concerns. And the best part. . . He loves each of us.
Many of us are reluctant to ASK. We say, "God is busy," or "My question is not that important," or "I'll do it tomorrow." Also, there is the tendency to want to do everything ourselves.

My hope and desire for this website is to provide a place to share our concerns, our victories and to discuss how God has answered our prayers. "Ask God For Help," is to be a place to ask questions, answer questions and share what has helped you to grow close to Christ. 
As Christians, we are instructed in the Word to grow and become mature in Christ. Spiritual maturity is growing in the wisdom of God.

My friend said, "We should grab our joys whenever and wherever we can." I hope you will find our visitors stories a help and a blessing.
Write us! Tell us your opinion! This will help us to grow. Thanks for your visit.

If your challenge is Depression, read more...
Select this link to share your story.

---
Share Your Story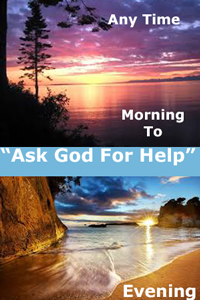 All of us have challenges. Your story could be just the right word at the right time to encourage someone who is facing a similar challenge. Share your experiences and how God strengthened you. Know that God using His believers to encourage and to help others along their path.
Tell us what God has done for you. Tell us your wonderful, loving and exciting experiences and the struggles you have had to overcome and where you draw your strength to continue...not only to continue, but to move forward.
What Bible verses do you recall when you face difficult times? What prayers do you say? Do you ask God?
What is God's plan for you?
What principles do you hold in your heart?


Consider these as a starting point

.

Love the Lord our God with all of our hearts, with all of our might and with all of our strength,
Love God's people,
In all, give God the glory, and

Seek the guidance and direction of the Spirit of God.

Our Mission:
Sharing the Good News

Our purpose is to serve God and to spread the Good News.
Healing begins when we recognize we have a problem. Step two of healing is asking for help. Asking God for help opens our lives and our minds to His mighty power. Jesus said, "I came that you might have life, and that you may have it more abundantly" (John 10: 10).

"But if any of you lacks wisdom, let him ask of God, who gives to all generously and without reproach, and it will be given to him." God invites us to ask.

Ask God to guide you. Ask God if you should share. What would God want you to share? Your victories, your trials, or words of encouragement?
Many just don't have the missing pieces of the puzzle of life. For too many, life is a void, it is hollow and without meaning. The missing piece is Jesus Christ and only He can fill the void. Who does God want to spread His good news. . . you?

By Sharing! You will be able to give hope and encouragement to others. Your voice may be the only voice a hurting person hears.
It is our joy to provide this site for you to share.

Share your victories... Share your struggles... Help a Neighbor Today
---
| | |
| --- | --- |
| Stories of Victory | Stories of Struggles |
| Share your story of how you overcame one of your struggles and how you found your answer. | Seeking answers? Share your story. Many of us struggle with the same problems. |
---
Share Your Story About Your Struggle or Victory
Do you have a wonderful story about overcoming a struggle in your life?
What about a struggle you are going through now?
Share it and help someone in a similar situation!
---
The Book of Amos is an astonishing prophesy. Amos was a shepherd in Judah. The Book shows how God used Amos to go to Bethel
in the Northern Kingdom to chastised the people of Israel for their sins and to warn them of the injustices they were committing.
Read more...
---
After you have read this article, tell us what your thoughts are.
---
---
googleca922f542b86d530.html

---
Tap the image to go to Christian Journey Page:
---
---