The Promises of God

The promises of God are found in the Old Testament and in the New Testament. These promises are faithful, rock-solid commitments made by God Himself. Sometimes these promises are what God will do for you and sometimes they are promises that he will not do. Let us look at four of the promises of God.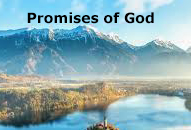 Two Kinds of Promises

As you read the Bible, note that God makes two kinds of promises-conditional and unconditional. Conditional promises are promises that God makes with us that is conditional on both parties doing something. "I will do this if you will do that."
Conditional Promises

I found an example of a conditional promise in James 1:5-6, which says, "Now if any of you lacks wisdom, he should ask God, who gives to all generously and without criticizing, and it will be given to him. But let him ask in faith without doubting. For the doubter is like the surging sea, driven and tossed by the wind."

Our participation is to ask God for wisdom and ask in faith without doubting. This is the condition of this promise. When we do our part, then God gives us wisdom generously and without criticizing.
Unconditional Promises

I find an example of an unconditional promise of God in Genesis 9:11. God promised never to send another flood to destroy the entire earth. "I confirm My covenant with you that never again will every creature be wiped out by the waters of a flood; there will never again be a flood to destroy the earth." Fulfilling this covenant rests solely with God. It does not depend on anything we will do or can do.

Just as God assured Joshua that none of the good promises by the LORD failed him, not one promise by God will fail us. Joshua 23:14 says, "I am now going the way of all the earth, and you know with all your heart and all your soul that none of the good promises the Lord your God made to you has failed. Everything was fulfilled for you; not one promise has failed." This verse should be sealed in our hearts and repeated every day.
Another Example of one
of the Promises of God

Third example is a conditional promise of God found in Mark 11:24. "Therefore, I tell you, all the things you pray for and ask for—believe that you have received them, and you will have them." The condition God puts on receiving the things which we pray for is "believing." This is having faith in the Word of God and standing on that faith. When we do not get what we prayed for, we should look into our hearts and examine our belief. Did we just hope for the thing we prayed for or did we really believe? Hoping for something is not the same as believing.
Dr. Charles Stanley's book, "The Promises of God" is an excellent source of additional information about God's promises and responding in faith.

The Promise of Salvation

Finally, our future depends on God's promise. Romans 10: 9-10 says, "If you confess with your mouth, 'Jesus is Lord,' and believe in your heart that God raised Him from the dead, you will be saved. One believes with the heart, resulting in righteousness and one confesses with the mouth, resulting in salvation." The promise of salvation and everlasting life. This is a future worth looking forward to.

 "If you abide in Me and My words abide in you, ask whatever you will and it shall be done for you" (John 15:7). We should always seek the plan and the will of God for our lives.
God is Faithful

God is faithful to fulfill His promises. It is up to us to fulfill our part of the condition to receive His conditional pledges. We must be obedient to God to receive the blessings and the promises of God.
---
---
---
---