The Touch of Jesus
The touch of Jesus was gentle from hands that had seen years of work as a carpenter. Jesus would have had no gloves or lotions to put on his hands. He would have cut timber, gripped lumber and laid stones with his hands. He built houses, furniture, and other carpenter's jobs with Joseph.
Yet, his hands were gentle, strong, and powerful. His touch could restore sight to the blind, bring life to the dead, and heal a leper's skin.
Touched by Jesus

The Bible describes the use of the words hands, fingers, and touch nearly two hundred times, and the words often refer to the touch of Jesus:
"Jesus put out His hand and touched him,"

"So He touched her hand,"

"He went in and took her by the hand,"

"Then He touched their eyes,"

"Immediately Jesus stretched out His Hand,"

"Jesus cam and touched them,"

"Then little children were brought to Him so that He might put His hands on them and pray."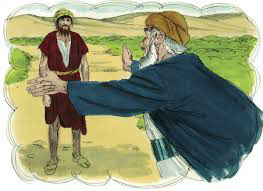 What did the Embrace of the Prodigal Son by his father show?

Remember the parable Jesus told about the prodigal son? Jesus described the reaction of the father to the homecoming of his long-lost son: "Filled with love and compassion, he ran to his son, embraced him, and kissed him." (Luke 15:20).
What a beautiful homecoming… the reunion of the father with his son. It would be difficult to imagine the feelings of the son when his father's arms wrapped around him. This is one of the most inspiring stories in the Bible showing the love between parent and child. All children need the security of the loving arms of their parents.
Many parents truly love their children, but don't always convey this love in a way that makes their kids feel secure. How many children grow up without a single hug or too few hugs from their parents? We cannot imagine the psychological damage done to children through the neglect of a hug.
A Touch of Jesus

Jesus wasn't afraid to touch others. Leprous skin didn't repulse Him, nor did He hesitate to handle the filthy feet of His disciples in the Upper Room. Jesus' use of His hands showed a powerful message of love, humility, and acceptance.
The Psalmist said of God, "When you open your hand, they are satisfied with good things." (Psalm 104:28) and then in Psalm 145:16: "You open your hand and satisfy the desires of every living thing." This is the touch of Jesus.

Touch is a powerful way to express love. A simple touch can reach deep into the soul of man. God is love, and love expresses the touch of Jesus.

Jesus healed people of many sicknesses and disabilities in many situations. We sometimes attribute his healing to his words, and at other times, to his touch. Astonished people said of him: "And on the Sabbath he began to teach in the synagogue, and many who heard him were astonished, saying, 'Where did this man get these things? What is the wisdom given to him? How are such mighty works done by his hands?'" (Mark 6:2)
Jesus Reaches Out to Many

The following verses describe Jesus reaching out to many with His touch. He heals lepers, the blind and raised the dead.

Jesus Heals a Leper: "And a leper came to Him and bowed down before Him, and said, 'Lord, if You are willing, You can make me clean.' Jesus stretched out His hand and touched him, saying, 'I am willing; be cleansed.' And immediately his leprosy was cleansed." (Matthew 8:2-3)

Jesus Heals Peter's Mother-in-Law: "When Jesus came into Peter's home, He saw his mother-in-law lying sick in bed with a fever. He touched her hand, and the fever left her; and she got up and waited on Him." (Matthew 8:14-15)

Jesus Heals the Girl: "When Jesus came into the official's house, and saw the flute-players and the crowd in noisy disorder, He said, 'Leave; for the girl has not died, but is asleep.' And they began laughing at Him. But when the crowd had been sent out, He entered and took her by the hand, and the girl got up." (Matthew 9:23-25)

Jesus Heals a Blind Man: "Then He touched their eyes, saying, 'It shall be done to you according to your faith.' And their eyes were opened." (Matthew 9:29-30)

Jesus Cleanses a Leper: "And a leper came to him, imploring him, and kneeling said to him, 'If you will, you can make me clean.'  Moved with pity, he stretched out his hand and touched him and said to him, 'I will; be clean.  And immediately the leprosy left him, and he was made clean." (Mark 1:40-42)
Jesus Heals Many With His Touch: At the beginning of Christ's ministry, He went about healing many. In Luke 4:40: "When the sun was setting, all those who had any that were sick with various diseases brought them to Him; and He laid His hands on every one of them and healed them."
Touch Lives with Your Touch

And so it is with each of us. We touch lives and minister to hurting hearts with our touch… our touch of love through a loving embrace, a hug, a pat on the shoulder, or a shake of a hand. We may never know what touch or what person was touched by our loving and caring gesture of kindness. But, that is OK, God knows.
Apply the touch of Jesus. And as you do, Ask God For Help.
God is everywhere and accessible at all times. Stay in touch.
---
---
---
---
---
---
---