Disciple 4:
UNDER THE TREE OF LIFE

---
Disciple 4 provides the tools to help you face life and the challenges of life. It is a study that shows you how to develop the inner strength to make the difficult choices in difficult times.
Under The Tree Of Life points you to the word of God which prepares you to stand strong during the times of difficulties in life and points you to the message God has for you to be victorious.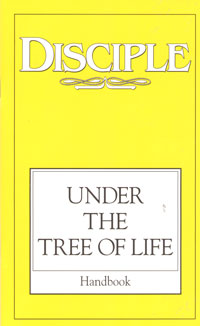 The Tree of Life is Hope

The image of the tree of life is one of hope and faith and love. It portrays the message God has for each of us...Put your trust in God and look to Him for guidance and direction.

Each one of us needs the inner strength that only God can provide. Ask God for help...He is always listening. His fruit of the Spirit empowers us, guides us and teaches us to be faithful to Him.

The tree of life shows the way of completion submission to God. In complete submission God's promises are realized. A most precious gift of God is God's peace which surpasses all understanding.

Wisdom from Proverbs

Equip yourself with the Word of God and be filled with the Holy Spirit. Put on the whole armor of God. Proverbs defines wisdom as "a tree of life to those who lay hold of her" (Proverbs 3:18).

Building a Life in Vain?

Psalm 127, the first verse says, "Except the LORD build the house, they labor in vain that build it."
It is a sad day to discover that you have worked and toiled a lifetime and all has been in vain. This is the reality of doing it "yourself." Going it alone. Value and worth in this life come when we yield to God and seek His plan and then go about building our lives based on God's plan.
That invites the question, "How do I know what God's plan for my life?" It is only through seeking God through prayer, reading the word of God, and meditating on the word of God that God's plan is revealed to us. Jesus clearly states that when we seek Him, we will find Him. Also, when we seek His plan, we will find His plan.
Disciple 4, Under the Tree of Life, is a wonderful way to explore ways to follow God and to learn to seek God. Learn how not to live a life built in vain.

Disciple 4 Bible Study

UNDER THE TREE OF LIFE completes the four-phase Disciple Bible study. Disciple 4 is a thirty-two-week study to prepare Christians to continue the philosophy, goals and ideals of the DISCIPLE program. It continues the call to each of us to serious, disciplined Bible study that will result in a solid foundation for disciple leadership.
The study is centered around the Old Testament collection of books called the Writings. They are made up of Ruth, 1 Chronicles, 2 Chronicles, Ezra, Nehemiah, Esther and Daniel. They do not have a unifying theme. They appeal more to the heart than to the head. The narrative books in the Writings cover the period of Israel's Exile.

"Becoming Disciples Through Bible Studies, Into The Word Into The World, Remember Who You Are and Under The Tree Of Life" are studies produced by Cokesbury and are products of Cokesbury. For more information about these products and their other products, go to www.Cokesbury.com.
---
---
---